Trauma-Informed Art Therapy in Colorado, September 13 & 14, 2013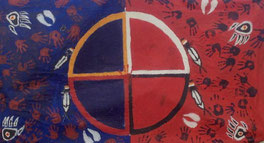 September 13th and 14th, 2013, 9 am to 4 pm each day at North Aztlan Community Center, Fort Collins, Colorado-- Register Early, Limited Seating!
Want to get a "Rocky Mountain High" and work in some continuing education on art therapy and trauma-informed practice? Cathy Malchiodi and Elizabeth Warson will be presenting the latest research and approaches to art making, stress reduction and resilience in Fort Collins, Colorado this fall [an hour north from Denver International Airport, one hour from Denver and one hour from Boulder area]. This two-day course presents key art therapy strategies and applications to enhance resilience and reduce stress responses to trauma and loss. Participants will engage in a variety of hands-on experiences using mind-body, mindfulness, wellness and strength-based best practices grounded in emerging research. The essential practices presented in this course can be applied to individuals of all ages, but particular emphasis is on families, groups and communities from a culturally-responsive, trauma-informed approach. For more information, click here.