Calm Through Creativity: How Arts Can Aid Trauma Recovery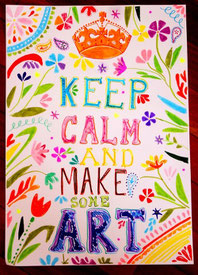 It takes a lot of effort for the brain to deal with trauma. Whether because of post-traumatic stress disorder or the many adaptive behaviors that victims use instinctively in threatening situations, the traumatized brain is constantly on high-alert, particularly its lower regions, where survival instincts originate.
Simple artistic activities like drawing or sculpting clay can soothe those lower regions, which is why arts therapists argue that their methods can help trauma victims calm down and release some of that mental tension. These evidence-informed therapies use creativity to raise victims' awareness of their physical and mental states and build resilience and a sense of safety. Counselor and author Cathy Malchiodi, who has pioneered Trauma-Informed Art Therapy and Trauma-Informed Expressive Arts Therapy, claims that the use of music, art and other creative activities grant victims a means of expressing the effects of trauma even after therapy ends. Read more here...